7 LEAF HEAVY DUTY OFF ROAD EYE TO EYE TRAILER SPRING SET.

RATED AT 1550KG

GREASABLE FRONT AND BACK HANGERS.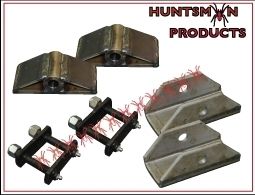 PLEASE COMPARE THE QUALITY AND STRENGTH OF THE OFF ROAD SPRING SETS TO OTHER SUPPLIERS!!
All huntsman off road springs come with 6x greasable shackles.
Solid hangers with reinforced rear hangers
10mm fish plates
Be aware of cheaper made off road springs that simply don't handle Australian conditions
CENTRE EYE TO CENTRE EYE = 830MM
CAMBER ARC HEIGHT 190MM. (SPRING ONLY. NOT ASSEMBLED ON HANGERS)
2X HEAVY DUTY 60MMX7MM OFF ROAD EYE TO EYE BLACK SPRINGS WITH REBOUND STRAPS
2X FRONT OFF ROAD HANGERS
2X REAR EYE HANGERS. WITH EXTRA STRENGTH GUSSETS
2X OFF ROAD FISH PLATES.
4X OFF ROAD 45MM 5/8"HIGH TENSILE U BOLTS. (50MM 5/8"HIGH TENSILE U BOLTS AVAILABLE UPON REQUEST)
2X REAR DOUBLE SHACKLE PLATES AND HIGH TENSILE SHACKLE BOLTS (WITH GREASE NIPPLES)
2X SHACKLE PINS WITH GREASE NIPPLES
2X AXLE PADS
Long Part of spring to the front, move rear hanger 25mm towards the rear,
Centre to centre of the hangers needs to be 25mm greater than centre to centre of the springs