HUNTSMAN PRODUCTS TANDEM OFF ROAD INDEPENDENT AIR BAG SUSPENSION.

2000KG RATED
WITH IRON MAN SHOCKS AND BOSS AIR BAGS
SUSPENSION INCLUDES
*4X INDEPENDENT SWING ARMS & GREASABLE HINGE BAR WITH NEOPRENE BUSHES. 45 MM STUB AXLES WILL BE WELDED ON OR IN ARM (TO SUIT YOUR OFFSET) WITH BRAKE MOUNTS ALREADY WELDED. SUSPENSION COMES IN A NATURAL FINISH
*8X BAG BRACKETS. ( 2 ALREADY WELDED TO SWING ARM)
*4X NITRO GAS IRONMAN SHOCKS
* CHOICE OF 10" ELECTRIC. 9" HYDRAULIC OR 9" MECHANICAL BRAKE KITS COMPLETE WITH ALL BACKING PLATES, DRUMS, BEARINGS, SEALS, CAPS AND NUTS. (IF ELECTRIC BRAKES IS CHOSEN THEN OFF ROAD MAGNETS AND BACKING PLATES WILL BE USED)

* JAPANESE MANUFACTURED BEARINGS
*4X REBOUND STRAPS WITH MOUNT BRACKETS, BOLTS AND NUTS
*8X 5MM SHIMS (only used if needed when aligning suspension)
*ALL HIGH TENSILE NUTS AND BOLTS NEEDED FOR THE KIT
* CAMBER & TOE IN ADJUSTMENT
AIR BAG SET INCLUDES
4X  2500LB BOSS AIR BAG COMPLETE BAGS
Incab Air Kit PX02
 

1 x PX-06 1/4  12V BOSS Air Compressor

1 x 4 Gallon Aluminium Airtank

1 x Mini 12v Valve

1 x 70-100psi Pressure Switch

1 x Drain Tap

1 x 700mm Braided Hose

1 x 1/4″ Flare Fitting

1 x 3/8-1/4 reducer

1 x Brass T piece

1 x Stamped stainless steel gauge panel

2 x Pneumatic Push Buttons for dropping each bag

1 x12V momentary switch for compressor

1 x BOSS 200psi Dual Needle back-lit Gauge

10 meters of 1/4" J844 DOT Airbrake line

2 x Inline check valves

3 x 1/4" push connect fittings

3 x Y Connectors

2 x T Connectors

2 x 1/4" female push fittings for gauge and buttons

10 x Cable Ties

Instruction Sheet

1X air release valve 210PSI

JUST ADD BATTERY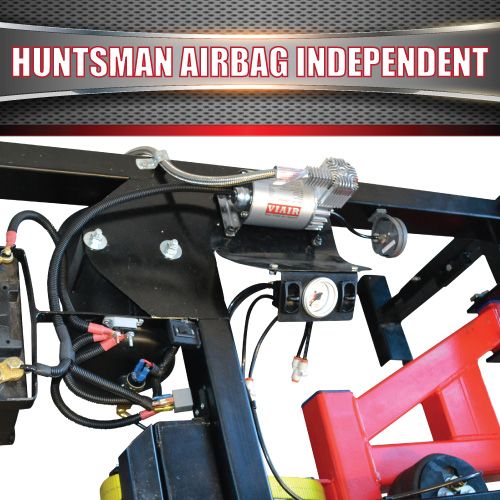 The Above shows tank, compressor, gauges, fittings and hoses that will be spread over the trailer or caravan
Whats involved in setting up the suspension onto the chassis???
The team at Huntsman Products mount everything onto the swing arm before despatch. So the hinge bar is bolted to the swing arm. The stub axle is welded on or into the swingarm. The air bag bracket is welded to the swing arm as is the rebound strap and shock bracket.
When you receive the suspension you will have to weld the hinge bar on top of a cross member as will be shown in the drawing we give you on purchase. The air Bag & rebound strap/shock bracket will also have to be welded to the chassis.
The brake mounts are pre welded to the stub axles. The cups are inserted into the drums or discs so it is a matter of greasing the bearings, assembling the brakes and drums to the stubs and you are done..


WE CAN SUPPLY WITH THE DOUBLE SHOCK SETUP FOR AN EXTRA $360
WE CAN ALSO SUPPLY THIS SUSPENSION WITH MECHANICAL OR HYDRAULIC DISC BRAKES. PLEASE ENQUIRE FOR PRICES
ride height from centre of stub to chassis when under load is approx 50mm - 220mm with the stub axle welded on top of swing arm or 115mm - 275mm if the stub axle is welded into the arm.  (more height can be achieved with longer shocks)
On ordering we email or fax both an offset job sheet and a fitment diagram for mounting the suspension to the chassis. Unfortunately we do need a deposit for these to be forwarded, so please don't take offence on these terms and conditions
IF YOU ARE BUILDING OR UPGRADING YOUR BELOVED CARAVAN OR CAMPER TRAILER THAN THIS HUNTSMAN OFF ROAD INDEPENDENT SUSPENSION SETS WHICH ARE USED BY CAMPER TRAILER, CARAVAN AND TRAILER MANUFACTURES AROUND AUSTRALIA ARE THE RIGHT COMPONENTS TO HAVE UNDER YOUR TRAILER.