Huntsman Products now have a range of galvanised jetski/ boat trailers.
All come standard with wobble rollers, jockey wheels, new wheels and tyres, LED submersible lights and galvanised running gear.
If you are local enough to us feel free to come and check out the quality, otherwise we are more than happy to work out a freight price for you
INTERSTATE CUSTOMERS PLEASE NOTE: B/TRAILERS TO BE DELIVERED TO DEPOTS FOR PICK-UP, FEEL FREE TO CALL FOR FURTHER INFORMATION
FEATURES
JOCKEY WHEEL: 8"SOLID WHEEL SWING UP
WHEELS & TYRES: 14" FORD GALVANISED SUNRAYSIA WHEEL WITH 185R14L/T BRAND NEW TYRE
WINCH: HEAVY DUTY GALVANISED WINCH WITH STRAP
ROLLER TYPE: HUNTSMAN PRODUCTS WOBBLE ROLLERS including double triple rear rollers
LIGHTS: FULLY SUBMERSIBLE LED LIGHTS
GUARDS: ROLLED STYLE WITH SAFETY LIP
FRAME SIZE: 100X50MM RHS
CROSS MEMBER SIZE: 75X50MM (4x cross members for extra keel rollers and strength)
SPRINGS: GALVANISED 45MM x 8MM 6 LEAF SLIPPER SPRINGS (1500KG RATED)
AXLE: 45MM SOLID GALVANISED AXLE
BRAKES:

GALVANISED HYDRAULIC DEEMAX DISC BRAKES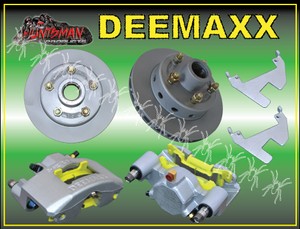 DISCS:

GALVANISED FORD DEEMAXX INTEGRAL DISCS. MARINE SEALS
COUPLING: 4 HOLE GALVANISED MECHANICAL BALL COUPLING
ALL BOLTS ARE STAINLESS STEEL
 U BOLTS ARE GALVANISED
DIMENSIONS OVERALL: 5900MM X 2080MM
IN BETWEEN GUARDS: 1650MM
TRAILER WEIGHT: 370KG
ALL ROLLERS ADJUSTABLE
COMES WITH REAR TIE DOWN POINTS
COMES WITH STAINLESS STEEL BEARING BUDDY'S ALREADY ASSEMBLED!!
Comes with genuine Huntsman wobble rollers.