DIY TANDEM TRAILER KIT (6/139.7 or 6/114.3 PCD)

WITH SLIPPER SPRINGS, ELECTRIC BRAKES AND 40MM SQUARE AXLES.

2000KG RATED.
JAPANESE KOYO BEARINGS

IN THIS KIT
1X 40MM SQUARE AXLE WITH ELECTRIC BRAKE MOUNTS WELDED TO AXLE, 1000KG RATED. ( AVAILABLE IN 60" , 63" 64", 65", 66, 67", 68", 70", 71", 73", 75", 77", 78", 79", 81", 83",85", 87", 89", 91",93", 94", 96" ( TIP TO TIP) IF YOUR NOT SURE ON YOUR AXLE LENGTH THEN ASK US
1X 45MM SQUARE BARE AXLE , 1000KG RATING
2X 10" ELECTRIC BACKING PLATES WITH WASHERS AND NUTS FOR FIXING TO BRAKE MOUNT
2X 10" ELECTRIC DRUMS. (CUPS ALREADY INSERTED INTO DRUMS)
AVAILABLE IN LANDCRUISER, HILUX, RANGER, D40, PATHFINDER, NP300 ETC STUD PATTERN
2X LAZY HUBS HUBS (CUPS ALREADY INSERTED INTO DRUMS)
2X LM JAPANESE KOYO BEARING KITS INCLUDING SEALS AND CAPS
20 X WHEEL NUTS
4X 6 LEAF SLIPPER SPRINGS 2200KG RATING WITH NYLON BUSHES
2X FRONT HANGERS
2X REAR HANGERS
2X MIDDLE LARGE HANGERS
4X UNIVERSAL FISH PLATES
8X 40MM U BOLTS
4X AXLE PADS
16X WASHERS AND NUTS FOR U BOLTS
1X 3500KG ELECTRIC BALL COUPLING WITH HAND BRAKE LEVER
1X8M HAND BRAKE CABLE
1X CABLE ADJUSTER
1X 4 HOLE COUPLING PLATE
2X CABLE CLAMPS
4X12MM HIGH TENSILE BOLTS, NUTS AND WASHERS FOR COUPLINGS
EXTRAS
2" OR 4" DROP AXLES $295  EACH AXLE
ASSEMBLE OF AXLE $50 PER AXLE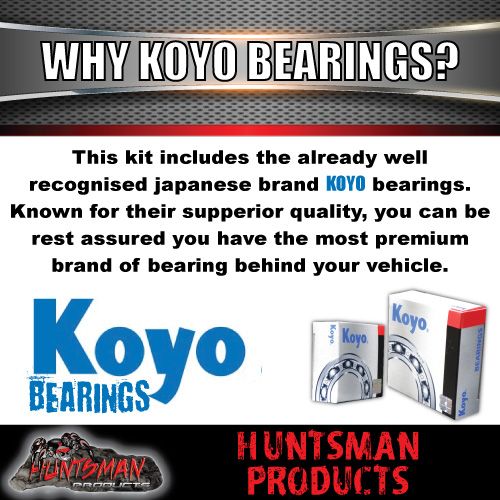 NOT SURE THE AXLE SIZE YOU NEED? ASK US?