DIY SINGLE AXLE BOAT TRAILER KIT.
HYDRAULIC DISC BRAKES, SLIPPER SPRINGS
1400KG RATED


STUD PATTERNS AVAILABLE
6 STUD LANDCRUISER (6/139.7 PCD, 1/2" STUDS AND NUTS)
5 STUD LANDCRUISER (5/150 PCD, 9/16" STUDS AND NUTS)

IN THIS KIT
1X 45MM SQUARE GALVANISED SOLID AXLE with 12" disc flanges welded. FLANGES ARE WELDED ON GALVANISED AXLE THEN SPRAYED WITH COLD GALVANISE AFTERWARDS. ( AVAILABLE IN 64", 65", 66, 67", 68", 69", 70",71", 73", 75", 77", 78", 79", 81", 83", 85", 87", 89", 91",93", 94", 96" ( TIP TO TIP) IF YOUR NOT SURE ON YOUR AXLE LENGTH THEN ASK US.
2X GALVANISED 12" LANDCRUISER PATTERN HYDRAULIC DISCS (CUPS ALREADY INSERTED INTO DRUMS)
2X GALVANISED HYDRAULIC CALIPERS WITH STAINLESS STEEL PISTONS.
4 X CALIPER BRAKE PADS
2X S/L BEARING KITS INCLUDING DUST SEALS AND DUST CAPS (MARINE SEALS)
ALL WHEEL NUTS
2X 9 LEAF GALVANISED SLIPPER SPRINGS. RATED 1600KG PER PAIR (springs are shot peened for extra strength)
2X FRONT SLIPPER HANGERS
2X REAR SLIPPER HANGERS
2X STAINLESS STEEL SLIPPER HANGER BOLTS WITH NUTS AND WASHERS
2X GALVANISED FISH PLATES
4X GALVANISED 45MM X 150MM 1/2" U BOLTS WITH NUTS AND WASHERS
2X GALVANISED AXLE PADS
1X 2000KG GALVANISED 4 HOLE OVERRIDE BALL COUPLING
1X 3/4"MASTER CYLINDER WITH STAINLESS STEEL MOUNTING BOLTS
1X GALVANISED MASTER CYLINDER BRACKET
4X HIGH TENSILE COUPLING BOLTS WITH NYLOC NUTS
1X 4 HOLE COUPLING PLATE
1X 2500MM COUPLING TO AXLE MAIN FLARED BUNDY LINE WITH NUTS (LET US KNOW IF LONGER IS REQUIRED)
1X 1500MM FLARED BUNDY LINE WITH NUTS
1X 500MM FLARED BUNDY LINE WITH NUTS
1X 400MM MALE / FEMALE FLEXI LINE
1X BRASS T PIECE
1X MASTER CYLINDER NUT AND WASHER
ALL COPPER FITTINGS AND T PIECES TO COMPLETE AXLE AND FINISH OFF AT COUPLING WITH PRE FLARED LINES!!



Please check coupling to axle hydraulic line length. if longer is required please get in contact with us
On ordering please supply your stud pattern and axle length?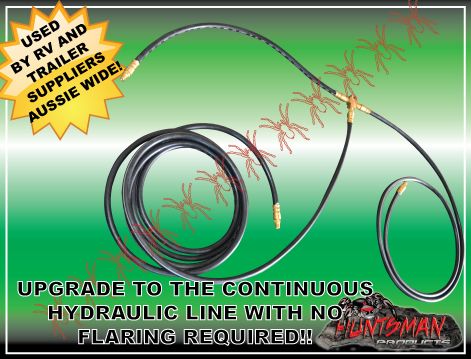 upgrade to the easy instillation hydraulic line setup.
12ft set up: $55 (CLICK ON LINK BELOW)
16ft set up: $65 (CLICK ON LINK BELOW)
"UPGRADE TO 12FT FULL FLEXI KIT BY CLICKING HERE"
"UPGRADE TO 16FT FULL FLEXI KIT BY CLICKING HERE"   
EXTRAS AVAILABLE
2" OR 4" DROP AXLES $295 EACH AXLE DROP AXLES TAKE APPROX 5 BUSINESS DAYS
ASSEMBLE OF AXLE $50 PER AXLE
UPGRADE TO JAPANESE BEARINGS $40.0 (CLICK ON LINK BELOW)
"CLICK HERE TO UPGRADE TO JAPANESE MANUFACTURED BEARINGS"

SHOT PEENING
Shot peening is a cold working process used to produce a compressive residual stress layer and modify mechanical properties of metals and composites. It entails impacting a surface with shot with force sufficient to create plastic deformation. Shot peening is often called for in aircraft repairs to relieve tensile stresses built up in the grinding process and replace them with beneficial compressive stresses.
DACROMET®
DACROMET®, is the leading inorganic coating commonly specified in the wind turbine, heavy truck, marine, agricultural, construction equipment and aerospace industries. A water-based, VOC-compliant coating, DACROMET® is comprised mainly of overlapping zinc and aluminum flake in an inorganic binder.