DIY TANDEM TRAILER KIT

2000KG RATED
HYDRAULIC DRUM BRAKES. SLIPPER SPRINGS
AXLE LENGTHS 79"-96"
IN THIS KIT
1X 40MM SQUARE AXLE WITH HYDRAULIC BRAKE MOUNTS WELDED TO AXLE, 1000KG RATING ( AVAILABLE IN 81", 83", 85", 87", 89", 91", 94", 96"" TIP TO TIP ( IF YOUR NOT SURE ON THE SIZE YOU NEED THEN SEND US A MESSAGE WITH YOUR CHASSIS WIDTH AND WHEELS YOUR USING IN WHICH WE WILL GIVE OUR JUDGEMENT)". AXLES ARE SUBJECT TO AVAILABILITY
1X 40MM SQUARE BARE AXLE, 1000KG RATING.
2X 9" HYDRAULIC BACKING PLATES WITH HIGH TENSILE BOLTS AND NUTS FOR FIXING TO BRAKE MOUNT
2X 9" HYDRAULIC DRUMS. (CUPS ALREADY INSERTED INTO DRUMS)
AVAILABLE IN FORD, HOLDEN HT, HOLDEN COMMODORE, HOLDEN HQ, AND LANDCRUISER PATTERN 
 2X LAZY HUBS (CUPS ALREADY INSERTED INTO DRUMS)
 4X LM BEARING KITS INCLUDING SEALS AND CAPS
20 X WHEEL NUTS
4X 6 LEAF SLIPPER SPRINGS 2000KG RATING WITH NYLON BUSHES
2X FRONT HANGERS
2X REAR HANGERS
2X MIDDLE LARGE HANGERS
2X FISH PLATES
4X U BOLTS
2X AXLE PADS
1X 2000KG OVERRIDE BALL COUPLING
1X 3/4 MASTER CYLINDER BRACKET
1X 3/4 MASTER CYLINDER WITH MOUNT BOLTS
1X 4 HOLE COUPLING PLATE
4X COUPLING HIGH TENSILE BOLTS WITH NYLOC NUTS
ALL COPPER FITTINGS AND T PIECES TO COMPLETE AXLE AND FINISH OFF AT COUPLING WITH PRE FLARED LINES!!
Please check coupling to axle hydraulic line length.  if longer is required please get in contact with us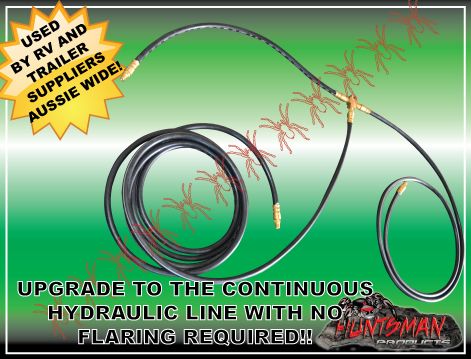 upgrade to the easy instillation hydraulic line setup. 
12ft set up: $55
16ft set up: $65
"UPGRADE TO 12FT FULL FLEXI KIT BY CLICKING HERE"
"UPGRADE TO 16FT FULL FLEXI KIT BY CLICKING HERE"   
EXTRAS
2" OR 4" DROP AXLES $200 EACH AXLE
ASSEMBLE OF AXLE $50 PER AXLE
BEARING OPTIONS
 UPGRADE TO JAPANESE BEARINGS $80.0 (CLICK ON LINK BELOW)
 "CLICK HERE TO UPGRADE TO JAPANESE MANUFACTURED BEARINGS"
NOT SURE THE AXLE SIZE YOU NEED? ASK US?