DIY 1400KG TRAILER KIT
HYDRAULIC DRUM
EYE TO EYE SHACKLE SPRINGS
IN THIS KIT
1X 45MM SQUARE SOLID AXLE WITH HYDRAULIC MOUNTS ALREADY WELDED , ALSO COMES WITH SPLIT PINS & WASHERS. AVAILABLE IN 64", 65", 66, 67", 68",69", 70", 71", 73", 75", 77", 78", 79", 81", 83",85", 87", 89", 91", 94", 96" ( TIP TO TIP) 
1X LEFT HAND 9" HYDRAULIC BRAKE BACKING PLATE
1X RIGHT HAND 9" HYDRAULIC BRAKE BACKING PLATE
2X 9" HUB DRUMS (AVAILABLE IN 5 STUD 100 SERIES LANDCRUISER, 5 STUD FORD, 5 STUD COMMODORE, HQ OR 5 STUD HT)
drums come with cups already inserted.
2X SLIMLINE BEARING SETS (2X LARGE BEARINGS, 2X SMALL BEARINGS, 2X LARGE CUPS, 2X SMALL CUPS, 2X WASHERS, 2X SPLIT PINS, 2X DUST SEALS, 2X DUST CAPS)
2X 7 LEAF 60MM X 6MM BLACK EYE TO EYE SPRINGS (RATED 1550KG)
2X FRONT SHACKLE HANGERS
2X REAR SHACKLE HANGERS WITH EXTRA STRENGTH GUSSET SUPPORTS
2 x DOUBLE REAR HIGH TENSILE SHACKLE BOLTS WITH GREASE NIPPLES
2X HIGH TENSILE FRONT FRONT SPRING BOLTS
2X FISH PLATES
4X 45 X 155MM U BOLTS WITH SPRING WASHERS AND NUTS
2X AXLE PADS
2000KG 4 HOLE OVERRIDE BALL COUPLING
4X HIGH TENSILE BOLTS WITH NYLOC NUTS
4 HOLE COUPLING BASE PLATE
3/4"MASTER CYLINDER
MASTER CYLINDER BRACKET
1 X 300MM MALE/FEMALE FLEXI HOSE

1X 2500MM FLARED BUNDY LINE WITH NUTS

1X 1500MM FLARED BUNDY LINE WITH NUTS

1X 500MM FLARED BUNDY LINE WITH NUTS

1X BRASS T PIECE

1X MASTER CYLINDER NUT AND WASHER
ALL COPPER FITTINGS AND T PIECES TO COMPLETE AXLE AND FINISH OFF AT COUPLING WITH PRE FLARED LINES!!
Please check coupling to axle hydraulic line length.  if longer is required please get in contact with

upgrade to the easy instillation hydraulic line setup. (click on links below)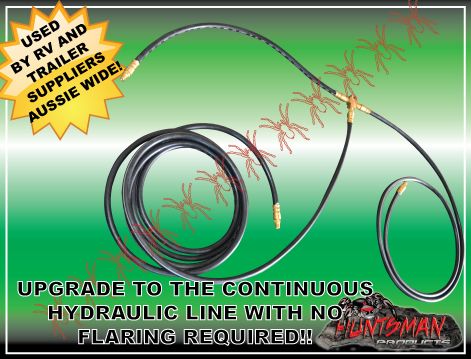 12ft set up: $55
16ft set up: $65
"UPGRADE TO 12FT FULL FLEXI KIT BY CLICKING HERE"
"UPGRADE TO 16FT FULL FLEXI KIT BY CLICKING HERE"   
EXTRAS AVAILABLE
2" OR 4" DROP AXLES $200 EACH AXLE
ASSEMBLE OF AXLE $50 PER AXLE
BEARING OPTIONS
 UPGRADE TO JAPANESE BEARINGS $40.0 (CLICK ON LINK BELOW)
"CLICK HERE TO UPGRADE TO JAPANESE MANUFACTURED BEARINGS"
NOT SURE THE AXLE SIZE YOU NEED? ASK US?
Please see below the setup for eye to ey springs
Long Part of spring to the front, move rear hanger 25mm towards the rear,
Centre to centre of the hangers needs to be 25mm greater than centre to centre of the springs